How to get realistic GTA graphic in 2020
Best graphic mods available which make your game feel amazing
Everybody new in modding want to improve their graphic first, but everybody experienced in modding want still make their graphic better and better with every possible way. I'm speaking from my own experience. I was satisfied with the graphic edits at one moment and without any new graphic mods released I needed to play with graphic settings after few weeks and try to improve it again and again.

Let's see what mods are actualy available for improving your GTA graphic right know and which of them I can recommend you. I will aswell tell you why don't to use REDUX mod if you appreciate hard work of mods creators. Here applies the rule that best improvements are not for free. I will start with 2 best mods which are paid but I will add their possible free replacements.
---
1. Pascal's Ray Tracing Shader
First of all you need ReShade which is free. So with or without Pascal's Ray Tracing paid option, download and instal reshade here.ReShade is added refinement working for more games that just GTA and it improve colors and depth. You can edit settings by your own and play with the colors or you can download any preset. I'm using Reacon's Realistic LA reshade preset which perfectly mirror LA.
Paid part of ReShade is Pascal's improvement which change the way how reshade rendering work. This technique will produce physically correct scenes in your game with realistic light rays. This changes in light and colors make game recognizably better.
---
2. Razed's NaturalVision Evolved
Thanks to this visual overhaul mod you GTA V keep speed with modern graphic games even many years after game was released. You may know it's first evolution called NaturalVision Remastered. That version is avaialable for free download and you can get it on gta5-mods. Despite the fact that NVE is still in beta testing, you can get it for few bucks via Razed's Patreon and enjoy it without any doubts. Or you can use NVR and wait for free final version of NVE.
NVR is still awesome graphic overhaul too, but it stucks hundreds steps behind the new NVE. This mod renew mostly the game timecycles.Different between RT and NVE is that RT focus on general lights and colors improvements but NVE is just about GTA and just for this game. Razed is using hundreds of photos and hours of video materials of California to change environmental weather in GTA V to mirror real weather look of California.
3. Photorealistic ENB
We got realistic weather, realistic lights and colors. Same as in the video editing when video is done you need to do some postprocessing. ENB is mod that enhance postprocessgin effects. Biggest difference you can see on reflection. Reflection on vehicles and props look much more realistic and you can add for example rain puddles reflection which is awesome change in game graphic.
Same as with the ReShade, you can do your own settings or download ENB preset. I still use PRSA (Photorealistic San Andreas) ENB preset which I edited a bit to add mentioned reflections and reduce the white color brigtness editing the Bloom settings. It miss few new features like this, but when you add them and use few more mods for details it have perfect effects for the previous 2 mods. I think it have lot of capabilities and it's still better than lot of new presets.
4. 4K roads
I wrote you need to add few details right? Here is first of them which you see I can say everywhere in the game. Even when you fly high in the skies, you can see the road under you. LA roads is mod from more than one author and it's remake of whole map roads. Roads are not only made in better 4K textures but it's based on real Los Angeles roads textures giving you so great experience while driving a car.
---
5. 4K vegetation
Another thing that you see almost everywhere in the GTA world is the vegetation.Enhanced 4K vegetation mega pack is mod that replace the trees and other vegetation with new ones. Lot of details on these trees make very realistic feel. Use your imagination and you can use some addon trees or forests to make it even more realistic. Watch my forest video where I combined about 4 big addon forests and result is that I enjoy even slow and calm driving thru the forest.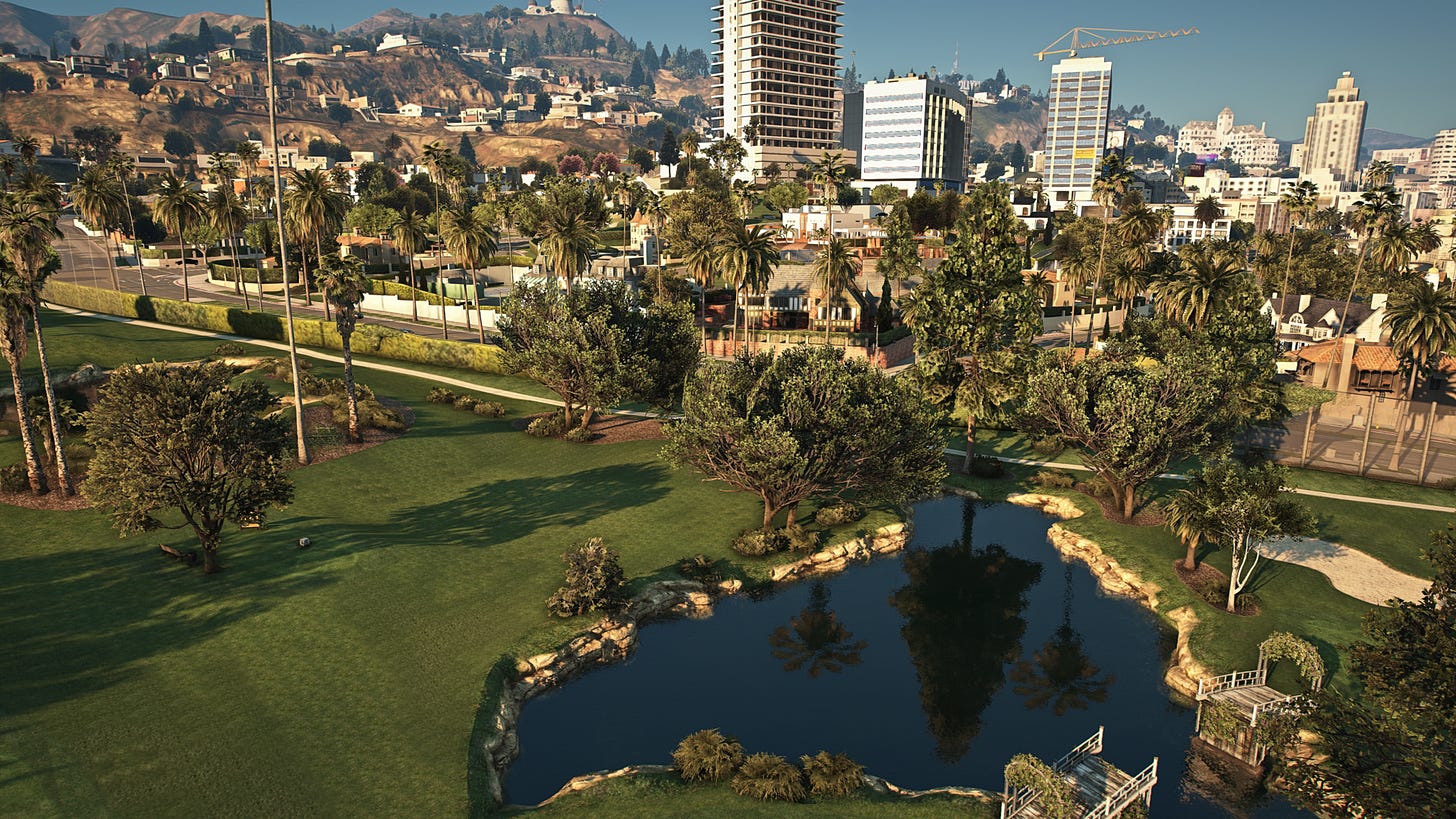 Here you can see most of mentioned — the vegetation, ENB, Ray Tracing, NVE, water and a bit of roads.
---
6. Clouds and sky
Ground is improved but what about top of the game world space? Clouds textures can make a huge difference and even that people don't recommend use it with NaturalVision I use Clouds V. You have to take care which files you want overwrite and which not to don't mess up NVE. That is reason why many people don't use it, but even that it's meant for VisualV, with a bit of effort you can run it together with NaturalVision.
If you mess up anything, I promise you that you will see it immediately in the game. I did it on first try aswell, the clouds was in dark weather so ugly that I didn't want have any clouds in game anymore. Don't worry about this mistakes, just make backup everytime you are making any bigger change in your game and you are good to go with experiments.
For the night sky it's pretty simple, if you have NVE not NVR, there is already enhanced night sky. Just add any of HD or 4K moon that you like and you are done. If you want use another night sky and stars as me, you need to change the sky model by original one because NVE have custom model which have different dimensions. That means, the textures from any other night sky mod would be ugly stretched.
---
7. 4K water
Last but not least I recommend to change water textures. Water is part of map, part of props and even part of weather so I think this is must have aswell. There is more 4K or 8K water textures, just pick one that you think look most realistic for yourself. From my point of vies is this one by Felix the best coz more details like foam and not only surface textures.
That's it for the best base graphic you can get. I hope it helped you and you can enjoy playing GTA V more with these info. For most ultra realistic game as I'm making there are lot of more details to improve with many smaller mods. I may write later another topic with tips for some of them to get you some more ideas how to improve your game. In the meanwhile, let me know in comments of any medium what tips or trick are you interesting to know. But don't leave yet.
By the way, I have to mentioned REDUX mod aswell. You may heard about this mod and wondering why I didn't recommend it. Reason is simple — I don't support stolen work. Yep that's right, REDUX is combination of stolen graphic overhauls and without permissions of that authors uplaoded as own work.
That guy don't even wrote it's combination of other mods, he is presenting it as own work from scratch. Next thing is that lot of people have problems with this mod as the support and updates for it are really low. Anyway, with all these mods I wrote you about, you can get much better graphic than REDUX with a bit of your own taste and without stolen work.